On Sunday members of the KISS team gathered in Central Cambridge to run in the Chariots of Fire race to raise money for EACH.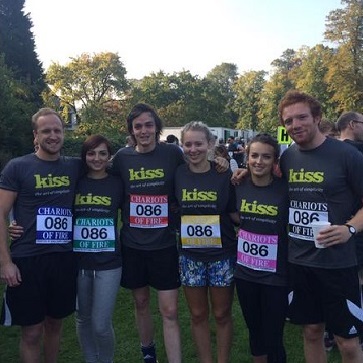 ​On Sunday members of the KISS team gathered on Queen's Green in Central Cambridge to run in the 24th Chariots of Fire race. The idea for the event stems from the film 'Chariots of Fire', which follows the story of Cambridge Runner Harold Abrahams and his bid to win a gold at the 1924 Olympics.
Waiting under the morning sun and looking at the other (very well trained) teams, there were a few nerves and last minute stretches, however, the team did brilliantly and came 97th out of the 380 teams!
The event was once again well managed and it was an absolute pleasure to be able to run though the infamous college courtyards, and along the river, only to be met by hundreds of energetic supporters. KISS will certainly be there next time, and will hopefully drag more team members with us!
Thank you very much everyone who donated! So far we have managed to raise £400 for East Anglia's Children's Hospices, which we are very pleased with, and hopefully this sum will carry on growing. We were proud to run for EACH, who support families and care for young children with life threatening conditions across Cambridgeshire, Essex, Norfolk and Suffolk.
A very well done and thank you to the following KISS members who raced; Victoria, Meredith, Josef, Rich, Lacey and our adopted team member Pip.
See you next year!
---
You may be interested in