Zyme Communications and the KISS team have joined forces to create a campaign for Biochrom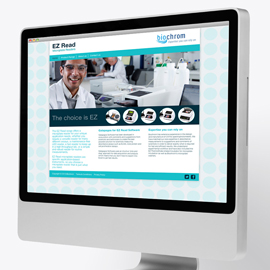 Life science PR and marketing agency, Zyme Communications (Zyme) and the KISS team have combined to create a campaign for Biochrom which included email blasts, banner advertising, a new microsite, product packaging and exhibition support.
Biochrom Ltd, a leading manufacturer of quality scientific instruments for applications in the life science, clinical, and analytical markets required a range of launch collateral for the new EZ Read range of microplate readers. The new range of readers and software, has been built on Biochrom's 40-year heritage of providing high quality scientific instruments, and has been developed to meet the needs of both ELISA labs and research scientists using microplate readers for their experiments.
Commenting on the project, Simon Fryer, our CEO said: "The campaign concept took advantage of the EZ Read brand name by suggesting that their superior range of microplate readers made the purchase decision easy. To demonstrate this further KISS developed a campaign theme of 'choosing the right microplate reader is EZ'. The process also involved new photography and a refined identity including logo and colours. Communications have now also been extended to an exhibition in China."
Tristana von Will, Product Marketing Manager at Biochrom said: "KISS was quick to understand the brief and the combined experience, knowledge and creativity that both Zyme and KISS bring to the table works well. We are very pleased with the designs, which are now being transferred to a whole range of other marketing collateral."
---
You may be interested in