We are excited to welcome Dill and Emma to our creative department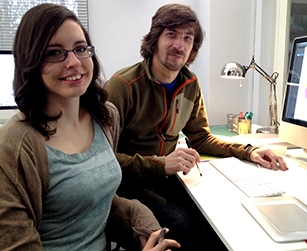 We have expanded our creative department with the appointment of two new talented Designers. Dill Hill joins the team as Designer and Emma Felce as Junior Designer, reporting into Richard Bland, our Creative Director.
Dill is a seasoned and inspired Designer with an excellent portfolio. He has a solid track record in interface design and development, with a particular expertise for mobile devices. Emma has recently graduated from Reading University with a BA in Graphic Communications and is bringing a fresh new perspective to the agency.
Richard is delighted to welcome Dill and Emma to the creative team, he said:
"The agency had a great end to 2012 and the New Year is promising to be equally exciting. In addition to expanding the creative department, KISS has also welcomed Josef Nikolaus de Pfeiffer, an intern Account Executive who has recently graduated with a BCS in Business and MA in Marketing."
---
You may be interested in