KISS takes home gold and silver awards in the Cambridgeshire Digital Awards 2015.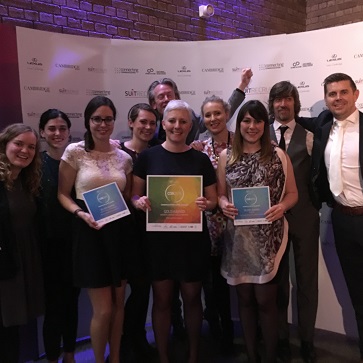 We have won gold for best website, marketing and creative at the Cambridgeshire Digital Awards held on 19 November at Burgess Hall, St Ives. We also took home silver awards for best website for technology and product development company, The Technology Partnership (TTP), and for best use of video for business for Altermune.
The Digital Awards are a multi-county scheme that recognise and reward innovation and progressive thinking by businesses, individuals, charities and educational establishments. The Awards are sponsored by Connecting Cambridgeshire, Cambridgeshire County Council and the Greater Cambridge and Greater Peterborough Enterprise Partnership. Cambridge News is the media partner for the event.
The whole digital team attended the celebratory dinner, with John Dibb, Digital Director collecting the awards. He commented: > "Over the last year KISS has been fortunate enough to work on some diverse digital projects, delivering websites with creative, game-changing technical challenges to match differing visitor needs, always with ambition, across a number of sectors."
---
You may be interested in