At KISS, we believe in the power of a good away day for forging connections and revitalising creativity, which is arguably more important than ever when two companies become one. Having fun and learning something new together makes us better colleagues to each other. Here's how this quarter's away day went…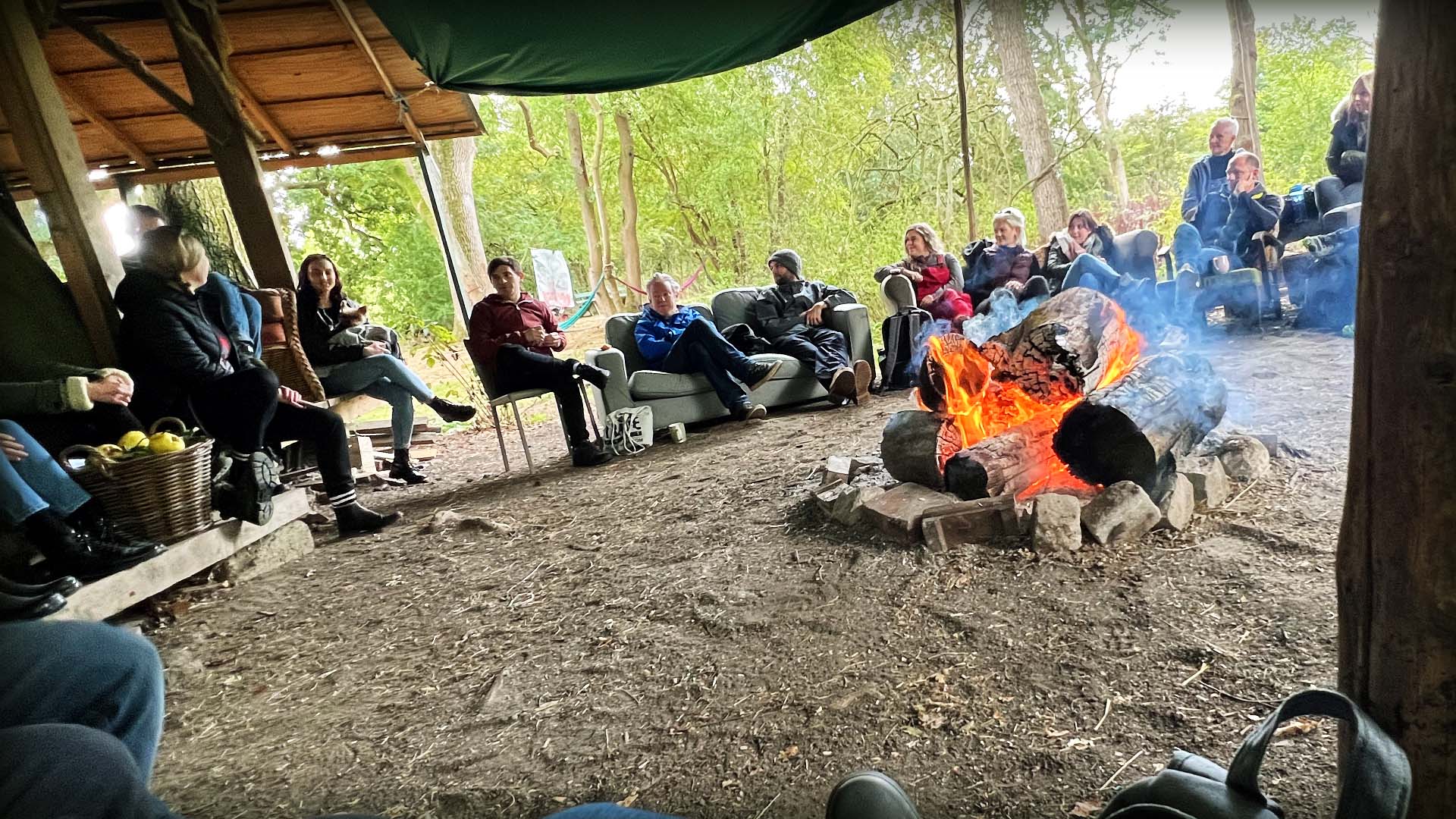 A lot has changed since our last annual Day in the Woods. We've moved into our new home on Trumpington Street, and we merged with Isle Interactive – immediately boosting our numbers.
If you go down to the woods today – you'll find our 30-strong KISS family. We braved the good old-fashioned British weather, flip-flopping between sunshine and showers, gathered around a well-tended campfire and ate delicious food. The Cambridge Curiosity and Imagination team prepared us a series of invitations, to reflect, create and recharge together. We started by thinking about trees which held significant memories for us, ranging from the emotional, symbolic and delicious to the downright hilarious. What might have felt like 'just another ice-breaker' quickly became something more as we all got glimpses of meaningful parts of our colleague's lives. We followed it with a walk in the woods in groups, meandering around trees, then we sculpted tree models from clay and made art from tree-derived materials – charcoal, blackberry and walnut inks. Not your typical team building day but I have to say, it really got us all relaxed and talking to each other in a way that would never have happened in a 'four-walls' environment.
Highlights:
• Crowding around the crackling fire eating cake and drinking tea
• Dodging rain showers to show our clay sculptures off
• Reassurance group visits to the composting 'loos with a view'
• Chatting with people we might not usually work with and learning new things
• Breathing in the fresh air and tuning in to nature, trees, plants, the weather
It's left us with some great memories of a day in fresh air together, reminding us all that sometimes refreshing our thinking can be as simple as getting outside, whatever the weather. Oh…and it was a great reminder that we all really like each other!
---
You may be interested in