More articles
The most wonderful time of the year?
25 November, 2016
Christmas enthusiast vs The Grinch. The two sides to Christmas advertising.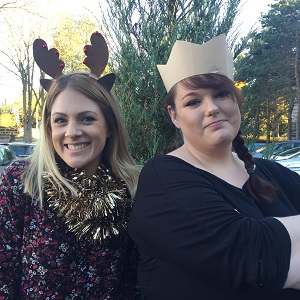 In recent years, a unique situation has arisen where everyone gets excited about the release of Christmas adverts. As consumers, we want to get carried away with it all, we want to feel Christmassy.
The advertising space around Christmas is fascinating. Each large retailer uses their ad in an attempt to make us feel more 'warm and fuzzy' than the last ad we saw. Everyone's trying to get in on the action - whether the products and services they provide are relevant for this time of year or not.
With the majority of adverts now released, two of KISS's team members review this year's offerings and provide their thoughts on Christmas advertising.
Katie Sandell – Christmas enthusiast
Unbeknown to my work colleagues, I am slightly obsessed with Christmas. When it comes to this time of year, I become giddy with excitement – the light switch-ons, the present-buying, the Coca-Cola truck, Mariah Carey's 'All I want for Christmas' and of course, the John Lewis Christmas ad. If John Lewis doesn't make us cry at least once in the lead-up to Christmas, then surely it can't really be Christmas.
Having said that, I was pleasantly surprised to see that John Lewis had taken a different approach this year. Yes, there were the adorable characters. Yes, there was snow. Yes, there was an acoustic version of a once well-loved song as the sound track.
But, crucially, it went for a different emotion this year: joy. It wanted to make us laugh this year, not cry.
Joy is a classic emotion to try and communicate in advertising, because unlike happiness it is not a constant state of wellbeing. It is an intense sensation that you feel in your stomach that grips you for a short burst of time. Therefore, although there weren't tears as I watched this year's John Lewis ad, I did feel joy. And that as an emotion is something that, after a year of ups and downs – mainly downs – is something that I can get on board with. Nice work, Adam&Eve DDB.
John Lewis is well rehearsed at this now. It's got the cuddly toys in store, the TV ad playing on repeat on the large screens in its stores' tech departments, the free tote bags for every 'My John Lewis' card owner. It's gone big. John Lewis has also done a VR experience in its Oxford Street store in London, which for someone who has a bit of a soft spot for VR, I find intriguing. It has also created a 360 content piece where you are virtually stood on the trampoline and can interact with the animals. John Lewis, you're talking my language.
Although it is an advert that has divided the team here at KISS; some are happy with the (slight) refresh and others aren't so pleased when the ad was launched. "I just want John Lewis to make me cry at Christmas, is that so much to ask!?" I heard someone remark. Others are looking for more of a change, suggesting that the tried-and-tested formula for the ads should be shaken up, for something different and less "trite". I guess it's difficult for us, working in the marketing and advertising industry, to see it through the eyes of a consumer.
Another stand-out ad this year is the M&S ad, who are giving Mrs Claus the spotlight, appealing to the mums out there who are often the family member who does the majority of the Christmas shopping. Again, this is an ad with very high production values – I mean, of course Mrs Claus delivers her presents by helicopter, sleighs are so 20th century. Having said that, the addition of the 'Fifty Shades of Red' book that Mrs Claus is sat reading in her comfortable chair while she's awaiting the arrival of Mr Claus back from his deliveries feels a little contrived. But good on M&S for doing more than just a shiny product ad this year.
Overall, there's been a mix of adverts – some good, some not-so good. But I have to admit that, much like the naughty snacks that find themselves into your kitchen cupboards at this time of year, I still like indulging myself in the guilty pleasure of watching Christmas ads and getting myself in the mood for Christmas. Particularly because of the fact that this year is the first in my career where I haven't run a Christmas campaign for one of my clients.
Danni Amos – The Grinch
Growing up, I remember Christmas advertising being a lot more commercial. It has a very clear objective - drive sales. I distinctly remember watching adverts with "Sale starts boxing day!" emblazoned across them in bright lurid colours. The nearest thing we got to a warm fuzzy feeling was the "walking in the air" Toys "R" Us advert which saw a teddy bear taking a little boy to the toy store, all created in charming Raymond Briggs-style animation. Products were very much the focus of these adverts as this video reel will demonstrate. Even the 6-year epic love story brought to us by McCann Erikson and Gold Blend still had coffee at its heart.
Today, it's very different, we want our advertisements to be mini-epics that take us on an emotional journey and humanise the brands in question. This is especially so with Christmas advertising. Whilst it used to be that Christmas was heralded by the arrival of the Coca-Cola Christmas truck, now it's John Lewis who dominate the space. Every year its partnership with Adam&Eve DDB brings us something which is simultaneously heart-warming and heart-breaking at the same time. Together they've set the standard by which we measure all other advertisements.
But here's my confession: I'm not a huge fan of the John Lewis ads. It's ok, you can call me The Grinch, I don't mind. The Bear and the Hare, whilst engaging, reminded me too much of the animation style of Watership Down. Monty the Penguin is perhaps my favourite but overly saccharine. Man on the Moon tipped too far over the edge and drifted into melancholic.
This year's, whilst replicating the formula of previous ones, came hot on the heels of the US presidential election. Almost immediately parallels were drawn between Buster the Boxer and President-Elect Donald Trump. No matter how hard I try to see the pure joy in the ad, it has been forever changed in my mind.
But the John Lewis ad isn't the only advert I've found disappointing this year, many of this year's crop, has also left me feeling distinctly unfestive.
Burberry's Tale of Thomas Burberry can't decide whether it's an advert or a movie trailer. Ultimately, its lack of heart has left me feeling cold. Certainly, it its show of the company's history and product innovations, was visually stunning, but managed to miss the festive spark.
At the other end of the scale, we have Sainsbury's, which tries too hard to have heart and substance and thus feels like the longest advert in the world. It's a far cry from the 2014 advert made in partnership with The Royal British Legion, which still gives me chills every time I watch it. (believe it or not, the 2014 advert is longer than this year's advert!).
Whilst I enjoy the spectacle of Christmas advertisements (usually), I do have to question whether they have lost their way. Sure, they invoke the festive feeling but have little correlation between the action on screen and the brand behind it.
Final thoughts
Whilst Christmas advertising has proven divisive in the KISS office this year, it is universally agreed that the Christmas season has now officially arrived. (Simon, our CEO, has even bought us all advent calendars!)
When you're snuggled up on the sofa this Christmas in front of the TV, mince pie in hand, spare a thought for those marketeers who probably started working on their Christmas ads on January 1st. At the very least they're keeping us more and more entertained each year with more elaborate ads – whether they make us laugh, cry, or both.
---
You may be interested in