KISS tweet was seen projected on the O2 Arena rooftop after showing support for England Rugby!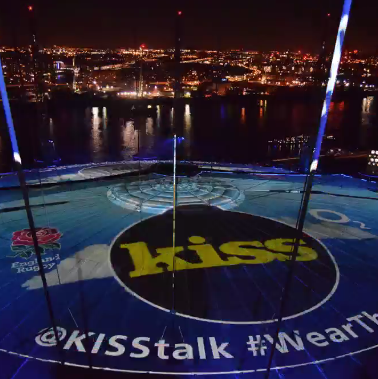 The past few weeks have seen strong campaigns coming from the big brands, all with the same motive; to unite our nation during this year's Rugby World Cup.
​We have already posted about our favourite ads in the build up to kick-off, but it doesn't end there!
O2's RWC15 'Make them giants' campaign is impressive on a new level. On Saturday evening, we were jumping up and down when we saw that KISS's tweet had been projected onto the top of the O2 Arena after we used the hashtag #WearTheRose. Check out the link on the tweet below!
@KISStalk You make England Rugby giants. And your support just got even bigger. pic.twitter.com/asVY9Bx7QF
— O2 Sports (@O2sports) September 27, 2015
O2 has proven they can do it best. Not only does it show us the power of a hashtag, it takes user engagement through the roof – literally! Their campaign is driven by the emotional engagement and support of the nation.
By showcasing the social media engagement on such a huge scale, it adds something special, giving back to the fans and highlights the support England has for its rugby team- a great integrated campaign idea.
---
You may be interested in