At TEDx Cambridge University this weekend, inspiring stories were everywhere.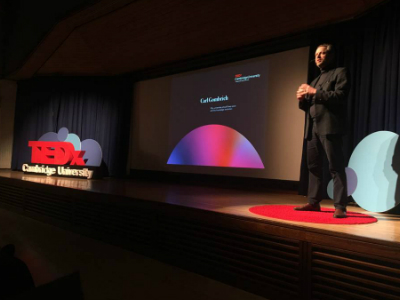 At TEDx Cambridge University this weekend, inspiring stories were everywhere, and this simple question seemed to be essential to making audacious ideas a reality.
Some of it was quite prosaic: Toby McCartney was inspired by meeting rubbish pickers on an Indian landfill site. He met a man buying up all the empty bottles and asked him what he wanted them for. He simply said 'I'm saving lives'. He noticed that in poor areas, people would put plastic rubbish in a pothole and burn it with petrol to fill the hole. Eventually he went on to ask himself about the mountains of plastic waste we generate, and whether he could recycle it to make better roads. After two years' hard work it's now a reality, delivering tarmac incorporating his patented waste-plastic pellets, making roads that last up to 10 times longer and don't pothole, and using tarmac that costs £15 a tonne less than normal.
The road from idea to reality was of course bumpy – patent costs, endless funding applications, negotiating with tarmac suppliers and councils – but on the bad days he challenged himself to just keep asking '…what if this could work?' It's starting to pay off, including winning the 2016 Virgin VOOM awards. Toby says this mentality is 'essential' to a positive, entrepreneurial mindset.
Cambridge start-up Tribalingual is arguably more audacious, and truly global: using today's everyday technology to preserve endangered languages.
There are around 7,000 languages spoken in the world today, but 40% of us speak only one of the top eight (English, Spanish, Mandarin, etc.). And as we globalise, by 2100 half of the 7,000 are expected to be extinct. Founder Inky Gibbens, who moved here as a teenager from Mongolia, told us 'academics can study an endangered language, record it and put it "on a shelf in the musem" if you like – but languages need to live. Anyone can help, simply by learning an endangered language and using it.'
Tribalingual uses common technology such as recorded webcasts and Skype to connect willing learners with teachers and native speakers.
Meanwhile, Tom Ilube asked himself 'What difference can one African girl make?' As he put it: 'There are half a billion under-15s in Africa. Einstein-like levels of genius are estimated to occur in about one in every 25,000 people. So it follows that there are around 20,000 potential Einsteins in Africa.'
This idea led him to set up the African Science Academy in Ghana, which opened its doors in 2015. Highly gifted African girls can win scholarships to study A level Maths, Further Maths and Physics – completing the course in a single year rather than the usual two.
All in all, some true inspiration. All of the talks will be available here within a few weeks.
"Jumping Off the Shoulders of Giants" was a TEDx Cambridge University event and was sponsored by KISS Communications. It took place on 11th February 2017.
---
You may be interested in