More articles
Zyme and KISS collaborate on Horizon Discovery
08 January, 2013
Zyme and KISS collaborate to redevelop website for Horizon Discovery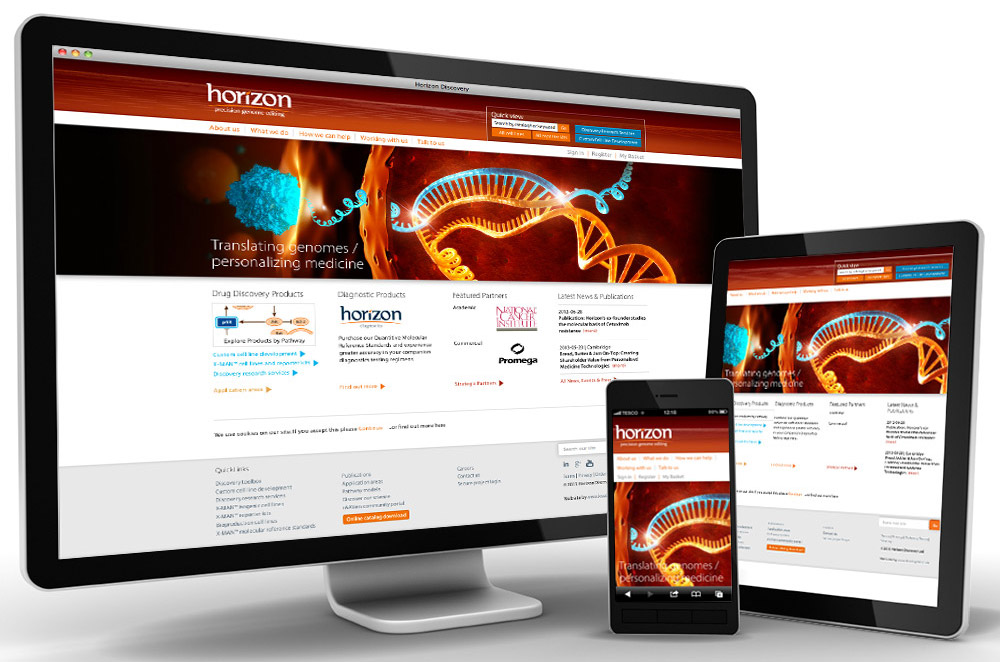 Life science PR and marketing agency, Zyme Communications (Zyme) has collaborated with us to redevelop the Horizon Discovery (Horizon) corporate website. The recently launched website incorporates a new e-commerce facility, richer search functionality, video, webinars, a dynamically generated downloadable catalogue and a new structure for greater user accessibility. The site is also integrated into a cloud based CRM system.
The website has been designed to elevate the company's brand position, with design elements including technical illustrations and product pathway maps to depict Horizon's capabilities and product offerings. Cambridge-based biotechnology company Horizon chose to work with us and Zyme based on our combined life science sector expertise and creative design capability. Horizon had an existing relationship with Zyme and when the opportunity to redevelop Horizon's website arose, Lorna Cuddon, Managing Director at Zyme, turned to us as their design and digital partner to manage the project, and design and build the new site, injecting creativity and ingenuity. The two agencies worked closely together throughout the project.
Horizon is one of the fastest growing biotechnology companies in Europe and combines a long scientific heritage in translational research with a world-leading gene-editing platform based upon homologous recombination. The company is a trusted supplier of genetically-defined cell lines, reporter gene assay kits, and genomic reference standards and contract research services to organisations engaged in bio-pharmaceutical process optimisation, drug discovery & development, and clinical diagnostic development.
Chris Claxton, Marketing Director at Horizon said:
"The whole process from planning to design, build and implementation has been a pleasure. The Zyme and KISS teams work very well together and their combined experience, knowledge and creativity have delivered a world class site that matches Horizon's ambitions."
Lorna Cuddon, Managing Director of Zyme, said: > "The new website brings to life Horizon's scientific heritage, developing its brand position within the market. KISS works across industry sectors, at the cutting edge of design/digital and the team was able to apply its experience and expertise to this project, to build a website that stands out above the competition."
Simon Fryer, CEO of KISS, said: > "By applying our approach to make things as simple and effective as they can be, we have been able to deliver on a complex requirement whilst elevating the online identity of Horizon Discovery. We are very pleased with the completed site and have enjoyed working with the marketing and technical teams at Horizon and also Zyme, who have brought their unparalleled life science experience to this project."
---
You may be interested in